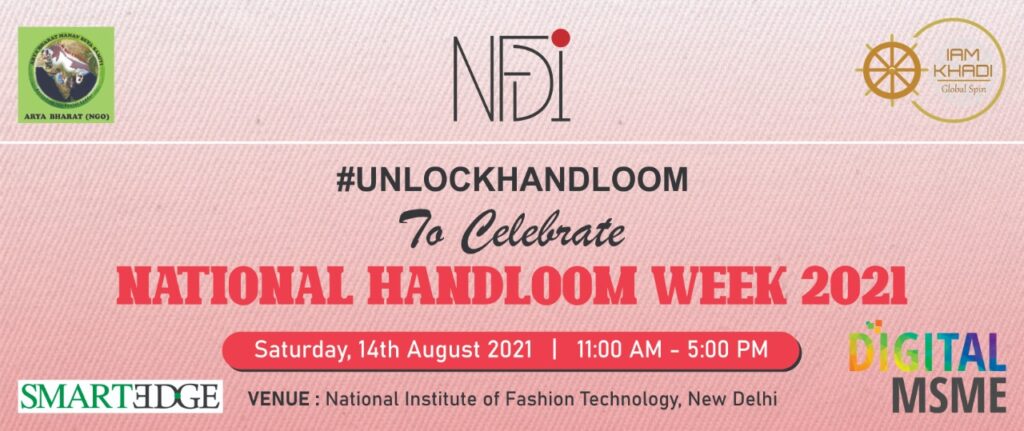 #UNLOCKHANDLOOM: AZADI KA AMRIT MAHOTSAV – To Celebrate NATIONAL HANDLOOM WEEK & Commemorate 75 years of Independence of Progressive India.
To participate please register: https://bit.ly/3BZDqPh
Time: 11 AM – 5 PM
Date: Saturday, 14th August 2021
Venue: National Institute of Fashion Technology, Hauz Khas Campus, South Delhi, New Delhi
SHGs/ NGOs/ TRUSTs
Artisans
Students
Faculty
Start-ups
Designers
Entrepreneur
Govt.
Mobilizing the Women Entrepreneurs.
Organizing infrastructure, the training set up, content, resources etc.
Project Financing Handholding from Banks/ MFIs/ NBFCs.
Digitally Promoting & Branding in domestic & export markets.
Inaccessibility to finance
Lack of availability of skilled workforce
Product unsuitability: Not supplying international quality standards
There are several reasons that have led to the problems of micro-entrepreneurs receiving financial assistance them are:
Entrepreneurs by nature are informal and young.
They have less credibility in the market
Not enough assets are available for collateral
No market-related information of the market and export globally
Product & Market Diversification
An increasing number of digital buyers worldwide
The change in consumer preferences from offline to online purchase
DEMAND DOWN – Export order cancellations hit 70%-80% in April.
BUSINESS PAUSE: Many businesses shut down permanently.
REVENUE DROP: Revenues remained very small.
CASH FLOW CRUNCH: Liquidity crunch to repay loans, pay salaries and working capital.
EXPORT HIT: Exports fell by a record 60% in April.
The project was created with the prime objective to furnish a unified platform to generate and identify livelihood opportunities for Entrepreneurs or Startups. It acts as an entrepreneurship organizer by bringing together entrepreneurs, youths, training providers, financial support systems, technology providers, market linkages and enterprises that work with micro-entrepreneurs.
The team has experience in designing business opportunities for Entrepreneurs or Startups in diverse sectors and in handlooms. This project will pivot supporting Entrepreneurs or Startups starting their entrepreneurial journey in the handloom sector in the registered National Capital Region (NCR).
The project contributes to Gender Equality (SDG 5) & Financial Empowerment (SDG 8). The project works to develop the skills of women comprising of marginalized women to make them more employable & self-reliant so that they become capable of earning a decent livelihood.
We follow a structured approach in moving a fledgling idea to the marketplace. The founder needs to put the thoughts together as part of a systemic strategy.
Generating a conceptualization that helps the Entrepreneur or Start-ups gain clarity and is done by completing the pre-incubation application form after registration.
Awareness & Youth Mobilization.
Organization of infrastructure set up, awareness content, resources, technology platform etc.
Registration of 03 Months Pre-Incubation Process for all Micro-Entrepreneurs.
For selected Entrepreneurs (comprising of Women & Youths)Conducting EDP.
Project Proposal and Mudra Loans from Banks/ MFIs/ NBFCs in Handholding for 03 months.
Promotion and Branding in domestic and export markets by Digital Identity or Profile Creation.
To organize regular business update newsletters.
ABOUT ORGANIZER: IAMKHAADII FOUNDATION (IAMKHADI)
Govt. of India recognized IAMKHAADII FOUNDATION is incorporated in 2018, is a Non-for-profit Social Enterprise and Start-Up (DIPP58339). In New Delhi, on Export Promotion It is incubated at the Indian Institute of Foreign Trade. It is promoted by Yash Arya (Alumnus of IIFT, Delhi & IIM, Lucknow) and Ms Dolly Bhasin is a Technical Director (Projects).
IAMKHADI works with more than 1000+ NGOs/ NFPO/ SHG/ Co-operatives comprising of 5000+ micro-entrepreneurs – impacted 1,00,000+ lives mainly for women by providing value-added training, policy intervention and global market access ensuring a dignified income. The Overall development of artisans, farmers, manufacturers and workers in the unorganized sector.
ABOUT ORGANIZER: NIFT FOUNDATION FOR DESIGN INNOVATION (NFDI)
NFDI Incubation & Accelerator Program discusses with each Entrepreneur or Start-up the early stage idea and further helps develop the Business Model Canvas during 3 months Pre-Incubation Process in HOME & SPACES, SMART WEARABLE, FASHION & LIFESTYLE, APPAREL & ATHLEISURE. The Business Model Canvas is the early road map of the Entrepreneur or Start-up, on which the Pitch Deck is based. The pitch is presented to NFDI Selection and Monitoring Committee.
Once the WOMEN startup is selected for Incubation Program, NFDI will work for 2 years to help in defining the early product or service or customer archetype to develop a Minimum Viable Product followed by Market Feasibility and Validation through some market traction. It is followed by pitching to angel investors and continues to monitor the progress of Entrepreneur or Start-ups till she succeeds.
The access to seed capital, infrastructure, mentoring support, networking opportunity, investor connect, etc… will be a part of the NFDI Incubation & Accelerator Program for Entrepreneur or Start-ups/ startups in HANDLOOM SECTOR.
ABOUT CO- ORGANIZER: ARYA BHARAT (NGO)
ARYA BHARAT MANAV SEVA SAMITI (NGO) is a trusted National Level Non-for-profit Social Enterprises working since 2007 and is dedicated towards protection of national heritage and art including promotion and development of heritage, traditional art and handicrafts. We are empanelled with the Development Commissioner (Handicraft) with Empanelment No: UP/2017/0157740 under Category 1.
ARYA BHARAT (NGO) is registered with Niti Aayog and possesses 12A & 80G registration. It also has its own KHADI cluster in Bijnore, which comprises of 25 women spinners and 50 male weavers. The complete project was funded by H.T. Parekh Foundation.